How To Activate Your Election Campaign With Campaign Materials?
How To Activate Your Election Campaign With Campaign Materials?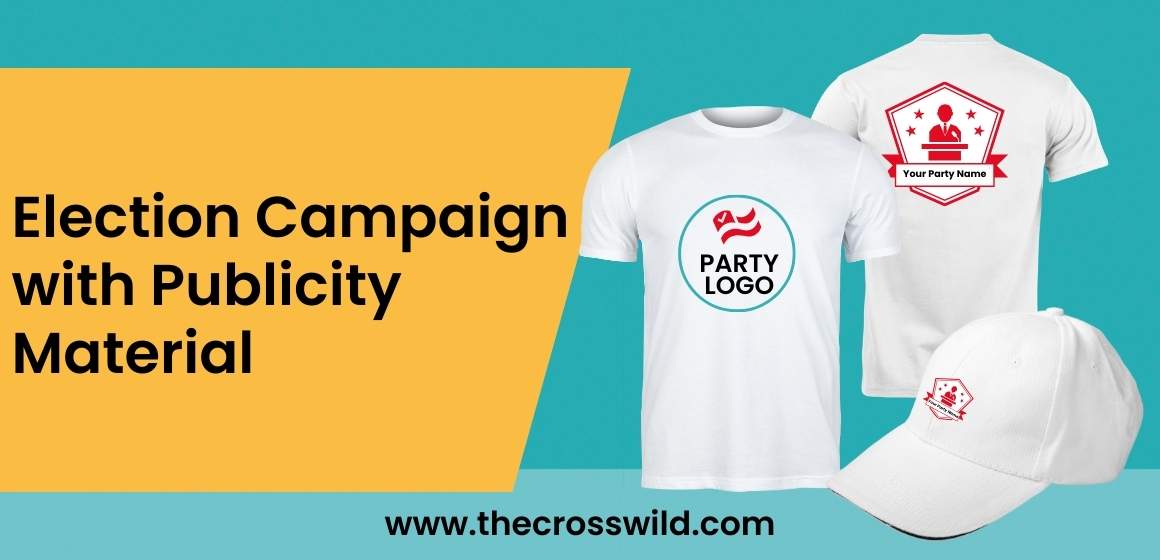 Staff and organizers of political campaigns are always looking for new ideas and strategies to get ahead of opponents. People love promotional items, especially ones they can use and see as they go about their daily lives. For election campaigns going on right now, these are some of the best advertising items to think about.
Election T-shirt
Politicians always get a lot of support when they hand out T-shirts from the best T-shirt Manufacturing company. To begin with, people love getting them. But that's not all of it.
The best thing about promotional items like t-shirts from campaign T-shirt printing is that they keep the message going even after the event or rally. Since people wear these shorts repeatedly until election day, they keep getting the word out.
Caps and hats
Things you can wear are always a good bet because you can use them after the event. Since many campaign events happen long before election day, election cap printing hats and caps give people many chances to show off their new gear at other events or walk around town wearing them.

Hats have been very helpful during political elections and have even become famous in the political world. It's important to know that hats are easy to spot, comfortable, and seen by many.
Racks for drinks
Drink stands are another great way to show your support for a cause. People who want to stay cool and keep their drinks cool will find these very useful at outdoor events.

Once they have them, they can take them to the beach, on boat rides, and to backyard parties to let everyone know who their candidate is.
Eco-friendly water bottles
As a further way to help protect the environment, reusable water bottles make great advertising things that people take with them everywhere they go, so hire election logo printing in Jaipur.

If you're not really into water, they also have reusable cups that are great for hot and cold drinks. Please ensure the items you choose are easy to carry around so fans will see them more as they go about their busy days with their bottles or cups.
Stickers for bumpers
Even more noticeable are car stickers. Just think about all the places you drive your car every day. Stickers on bumpers make it easy for fans to get the word out about a candidate and bring attention to the campaign.

Use catchy words or sayings that describe the candidate well, and print them on car stickers to give away for free at campaign stops. These are great promotional items, but they work best with other things. For example, you could hand out reusable shopping bags with bumper stickers and other campaign-related items.
Signs for the garden
It's strange, but these are some of the things that election campaigns ask for the most. More and more people want to show their support for politicians they like and talk to voters who are still deciding.

Putting up yard signs is a way for people to show support for their favorite candidates. It also lets neighbors know who to talk to if they need help deciding which candidate to support but want to learn more about the pros and cons of each.
Hand fans you can print:

On the campaign trail, things can get hot, and hand fans can help people stay calm. Print campaign slogans on them and give them away for free, especially at events outside.
Put these in reusable sack bags with campaign buttons, car stickers, and other things to give as gifts to donors and people who attend the event. Because some events occur outside or in busy, hot places, these campaign fans might be the most-wanted things at your next event.
An umbrella:

It's going to be another election year, rain or shine. Under umbrellas, fans can show their support for their favorite politicians no matter the weather because they protect them from the sun and the rain.
Conclusion:
People who vote and campaigns alike give these advertising things high marks. Ensure you have various promotional items like logo t-shirts from promotional t-shirt printing to give away at events. This will keep people returning and allow them to spread the word about their favorite candidates.